I do hope you like my jewellery storage hacks they are certainly thrifty!
Let us not be too particular. It is better to have old second-hand diamonds than none at all. ~Mark Twain
I love nice jewellery and think it should always be on display. You probably have just what you need to display it beautifully close to hand. No matter if it is a locket a bangle or a personalised necklace there are many awesome ways to dispay your jewels.
A thrifty home can always be a stylish one….
5 Thrifty Jewellery Storage Hacks
What could be simpler or thriftirer than a branch (JulieAnnArt)
Paint Palettes are perfect (Martha Stewart)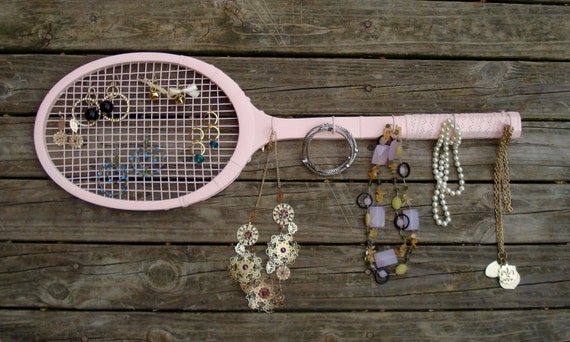 How about a tennis racket? (Etsy)
An old picture frame does a great job (Kevin and Amanda)
And who doesn't have an old muffin tin lying around (Shelterness)
Aren't these just fantastic. I think my absolute favourite has to be the muffin tin hack. Just because it is so absolutely simple and effective, we all have one somewhere and because no skill or other materials are involved.
My favourite hacks are always the easiest ones!
I see so many thing so n Pinterest i do not really have the skill or time or materials to make..that is why I like to keep things so very simple.
Are you inspired to try any of these jewellery storage hacks ?