I firmly believe a home with kids needs books.
Books are magic.
They can entertain, inform, amuse, enlighten, bewitch, upset, terrify, transport and they educate.
They can teach you about the past.
Books make you laugh, cry,think, giggle, wonder and pause.
Books can give you meancing ideas.
Books can change people.
Books can bring you together.
They can puzzle you.
This week we have World Book day (March 6) lets celebrate books. Let's bring a new book into our home and perhaps give an old one away (to a friend or a charity shop)
Books can be expensive but they don't have to be at all. Join the recycling revolution, raise some money for charity and add to your thrifty home library at the same time.
All the books you see above we got from our local charity shop this weekend ( and I had change from £10! ) My children will be entertained for hours and hours.
Even there thriftiest home can have it's own library!
Enjoy world book day!
Linking up to the awesome Magpie Monday linky where other bloggers show off their second hand spoils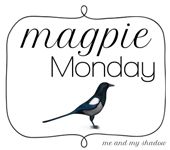 and…